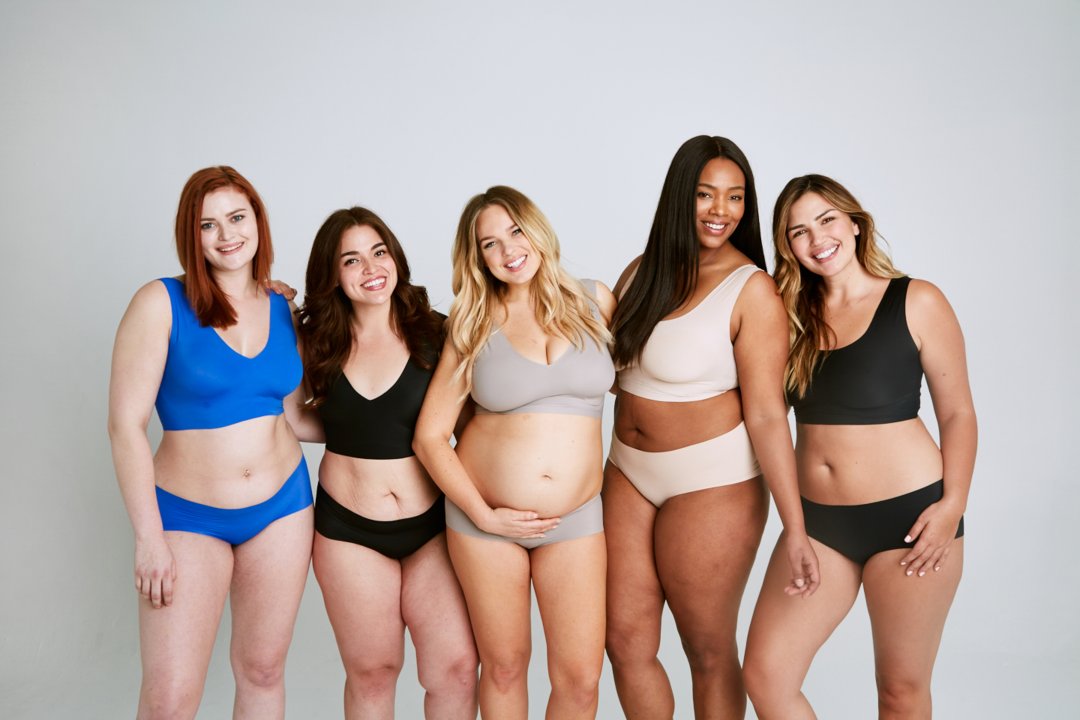 We get our best bra design inspiration from you: The True Fam. We're deciding what bras to make next based on what you tell us you want. That's at the heart of all of True&Co.'s design decisions, and it's a philosophy that has come to life as we've developed the True Body Collection.
Step Away From The Sports Bra
Our first iteration of True Body was as simple as possible — the lightest fabric, the most straightforward, scoop neck design. This design was inspired by women who told us they were wearing sports bras to work — we wanted to create something with the same comfort level that didn't flatten you out or feature bulky seams that would show under your lightweight tops and dresses. True Body, with its feel naked and buttery-soft, feather-light fabric, clings to your curves and disappears under clothes, without irritating wires or bulky seams.
A True Body For Our DD-DDDs
True Body Lift was the first new development. Women were responding positively to the wirefree, minimalist nature of the original True Body, but they wanted to feel a little more held in and supported (especially women with larger breasts who could experience pain with too much movement). We developed a new fabric, included a wirefree channel, and extensively wear-tested Lift on our DD+ friends and colleagues. When Lift Full Cup was released, women with smaller breasts expressed an interest extra support, too. So we expanded our size range, making Lift bras for everyone. 
Inspired By Survivors, Designed For All Superwomen
We also heard from you that while you loved the feel of the fabric, you didn't always want a bra that you had to pull over your head. This led to the development of True Body Front Closure, which was originally inspired by women who had recently gone through mastectomy surgery and had a tough time raising their arms above their head. Lace details and corset-like front clasps added a funky element for anyone looking to work a little rock 'n' roll into their lingerie style, while still using our soft, supportive Super Lift Fabric. Although we no longer carry this product, we consider it an important part of our journey in True Body.
Our newest achievement
Upon listening to your feedback, we were so excited to release our newest design, the Lift Triangle bra, in the midst of quarantining during the COVID-19 crisis. It's a lower cut bra with skinny straps, and it still fits our DD+ friends while lifting 1". We think it's our best model yet, and we're hoping you think so, too!
What Comes Next? You Tell Us!
We've heard requests for cotton and lace with a True Body feel. We've heard from moms that True Body is almost their ideal nursing bra. We're listening. And we're so excited to keep growing the True Body Collection more and more.