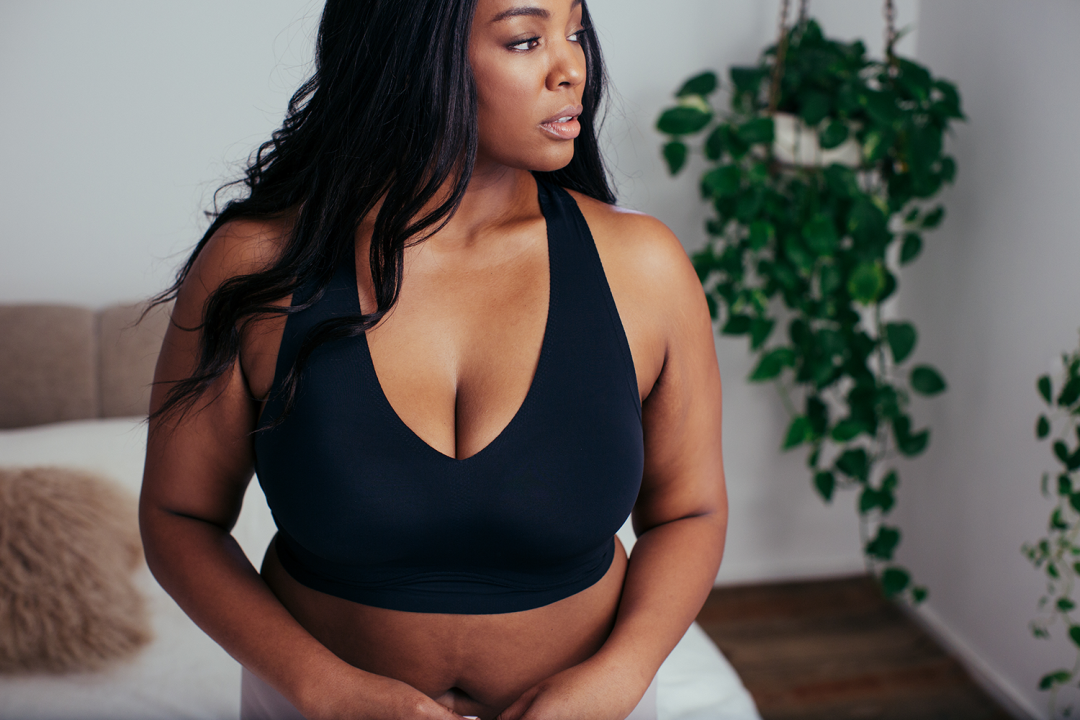 Every bra we make at True&Co., we make for you. Sounds obvious, right? But seriously: Our products are directly inspired by requests and feedback from the 6 million+ women who took our Fit Quiz. True Body Lift is no exception. Here's how True Body Lift came to be, a thrilling story of boob-filled adventures. At the very least, a story of a wirefree bra that lifts your boobs up to 1 inch (and running up and down the stairs to test for bounce). Shall we?
A True Body Bra For DD-DDDs Lift goes back to when we were developing the original True Body bra. Whenever we make a bra we ask ourselves one major question: What is this purpose of this bra in your life? For True Body, the answer was a bra that felt like wearing nothing at all. It was about hugging your curves and showing off your natural shape. We wanted it to be smooth and to disappear under clothes — this was going to be a bra you could wear all day long, under anything, and almost forget it was there.
To make sure that we were creating a bra that you would want, we gave True Body the True&Co. treatment: We tested how it fit on different body types. We observe the bra as a working garment in motion. So we put it on ourselves, our friends, and we… moved around. We took it home and washed it. And yes, we ran around our office and up and down the stairs. Our DD and DDD girls were bouncing a whole lot. We quickly noticed that, while True Body was living up to it's feel naked, but better promise, we could do better by those women who needed a little more support.

True Technology Meets True Body We knew we didn't want to compromise True Body's comfort by sticking a wire in it for support. So we thought of other ways we could provide a little lift while keeping the bra comfortable and minimal. Namely: the fabric. We developed a more supportive fabric that holds you in more. We added a glue dot band around the bottom to keep it from rolling up. And we built in a hollow wire channel to give you even more lift — up to one inch more lift than the original True Body Collection. Lift still feels naked but better, but holds the girls in place a little more. True Body Lift Full Cup was an instant hit with DD-DDD cup women, in our office and beyond.
Lifts Your Boobs Up To 1 Inch These innovations were inspired by DD-DDD cups, but thanks to feedback from women who took our quiz, we quickly realized that all sizes had occasions where serious comfort plus a little more support was hugely beneficial. Which leads us to today: the launch of True Body Lift across our size range. And we're just getting started. Having created this super lift fabric, we plan on using it for a range of silhouettes.
You tell us: what True Body bra should we make next?